DeVilbiss IntelliPAP Auto APAP Machine
DeVilbiss IntelliPAP Auto APAP Machine
IntelliPAP from DeVilbiss is a new line of CPAP Machines. This product is available with or without a heated humidifier. The machine snaps on to the optional humidifier and all controls are handled directly through the CPAP Machine.
---
---
FREE shipping!
---
Prescription Required
---
Accessories for DeVilbiss IntelliPAP Auto APAP Machine
DeVilbiss IntelliPAP Auto APAP Machine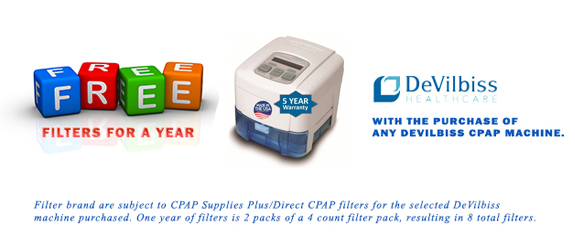 Manufacturer: DeVilbiss
Contents of Package: Auto Machine, Power Cord (8ft), Initial Filters, 6' CPAP tubing, Travel Bag, Instructions.
Description: At 26 dba, the DeVilbiss IntelliPAP Auto machine is one of the quietest machines on the market today. The SmartCode key allows data to be stored and downloaded easily for future viewing, and the delay pressure ramp allows you to reach your prescribed pressure gradually, preventing any discomfort while trying to fall asleep. The machine also features large, backlit LCD buttons and display so you can always have control, even if it's in the middle of the night. It is available without or with a built in heated humidifier. SmartFlex technology adjusts to your breathing, adjusting the pressure and speed of your therapy for superior comfort.
The heated humidifier has no additional cords or controls, making it ideal for travel, and helps to ease any dryness felt during therapy by offering continuous moisture. The heat in the humidifier helps pick up more moisture than ever for added comfort. Traveling ease is further enhanced thanks to the optional cigarette lighter adapter, allowing your machine to run using power from your car or truck when a traditional outlet isn't available.
Specifications for DeVilbiss IntelliPAP Auto APAP Machine
Pressure Range
3-20 cm H20 (.5 increments)
Ramp Time
0-45 mins in 5 min increments and .5 increments for pressure)
Starting Ramp Pressure
From 4cm up to CPAP pressure, CPAP-user-adjustable
Dimensions
4.2"H x 6.5"W x 6.9"D
Weight
2.75 lbs CPAP
4.45 lbs with humidifier and CPAP
Altitude Compensation
Automatic - maximum height 9000 feet.
Electrical Requirements
100 - 240 AC, 12volt DC
Product Reviews for DeVilbiss IntelliPAP Auto APAP Machine
---
Rating:
What a great machine and quiet too. The warranty is why I purchased this machine. Great customer service and I received my machine so quick.
- Luke
Submitted on March 25, 2015
---
---
DeVilbiss IntelliPAP Auto APAP Machine Videos