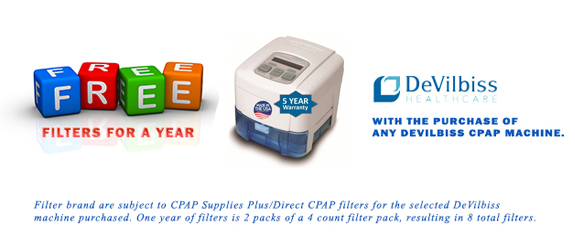 Manufacturer: DeVilbiss
Content of Package: CPAP Machine, 8' Power Cord, Initial Filters, Travel Bag, 6' CPAP tubing, Instructions
Description: The DeVilbiss IntelliPAP Standard Plus CPAP machine with SmartFlex features SmartFlex technology to enhance your comfort during therapy. SmartFlex helps to lower your machine pressure while exhaling, minimizing any discomfort and allowing a restful sleep. The IntelliPAP line is one of the quietest on the market, ensuring you and your partner are not disturbed. This machine is water resistant, which lowers the risk of costly damage. Other standard features include automatic leak compensation, delay pressure, and event detection. SmartLink software stores therapy data and allows you to review it with your doctor at a later date, ensuring your treatment is as effective as possble. The optional, built-in heated humidifier has no additional cords or controls and creates a comfortable breathing environment, moistening the air you breathe in and preventing any dryness or discomfort. Thanks to its integrated design, your machine takes up less space and has fewer parts to clean and maintain for a highly durable machine.
---
Rating:
This is a great machine to travel with, the carrying case is not bulky at all, the machine is also very quiet. And the 5 year warranty is really a great.
- Brian Cook, Chicago, il
Submitted on June 19, 2015
---
Rating:
The 1st thing you notice about the Devilbiss IntelliPAP is that it costs a lot less than other CPAP machines. So I did some homework and took a chance. 2nd is that there is a 5 year warranty so I said sold!
- Jake B.
Submitted on March 30, 2015
---
Rating:
This Devilbiss CPAP machine is economical and very easy to use! The best part is that it has a 5 year warranty! :)
- Dennis J.
Submitted on March 24, 2015
---