Manufacturer: ResMed
Contents of Package:AirFit F20 For Her mask, Headgear, Instructions
Description: The AirFit F20 For Her Full Face CPAP mask is the newest evolution in the ResMed mask line. Part of the AirFit series, this mask has been designed with comfort in mind, adapting to your delicate facial features and existing in pillowy softness that will keep you comfortable throughout the night. Thanks to the InfinitySeal cushion, the AirFit 20 has been designed to create an optimal seal that is strong but not intrusive, keeping you compliant with your therapy and at ease. The seal has been created to take into account a variety of pressure settings, ensuring that no matter if you are at a low or high prescribed pressure, the seal will stay in place.
As one of ResMed's most innovative masks, the AirFit 20 has been redesigned with you, the user, in mind! We've mentioned the comfortable and adaptable mask cushion, but the mask frame now has added padding as well, eliminating unwanted pressure points. The mask frame is as flexible as ever, allowing versatility in your sleeping positions to keep you sleeping as you normally would. This new mask comes with all of the standard features you know and love about ResMed masks. The quick release elbow on the mask front makes it simple for you to temporarily disconnect from your machine if you need to get up in the middle of the night, and magnetic quick release clips on your headgear allow you to easily drink that glass of water. The low profile for this full face mask makes it ideal for patients who need fuller coverage in a mask but want a less intrusive design. Sitting under your eyes, the AirFit 20 is a great compromise.
Features:
InfinitySeal cushion

Added mask frame padding

Quick release elbow

Magnetic headgear clips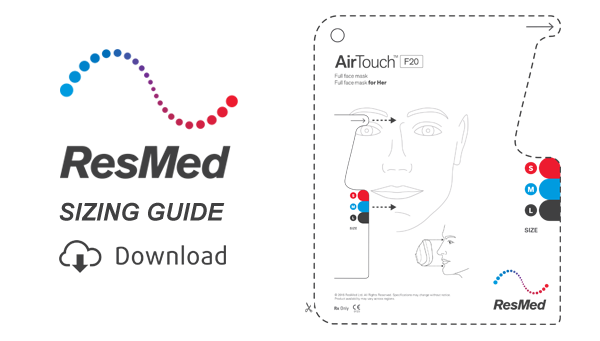 ---
Rating:
I like this mask because it does not have a big old forehead support. I can't stand those, So it is like heaven wearing this mask. Plus, it has magnets that hold the mask together and you don't have to struggle with trying to click the headgear back on, after a bathroom visit during the night.
- Sally Young
Submitted on February 14, 2017
---