Manufacturer: CPAP Comfort Cover
Content of Package: Comfort covers (2pk)
Description: The new CPAP Reusable Comfort Cover takes mask liners to a whole new level. Fitting around your entire mask, the comfort cover is able to protect your skin from irritating red marks and pressure points, allowing you to sleep more comfortably through the night. The comfort cover is made of a soft, hypoallergenic cotton blend that many users find more soothing than the rubbery or plastic components that trim most masks. Unlike traditional mask covers, the comfort covers are completely reusable, simply wash as often as desired and replace on your mask for a restful night. On some mask styles, these covers can even reduce air leaks, helping deliver more effective CPAP therapy. These comfort covers are great for anyone adjusting to therapy, or seasoned users that want a bit more comfort during the night. Check the specs for mask compatibility.
To check the compatibility of your mask with the appropriate Comfort Cover, please reference below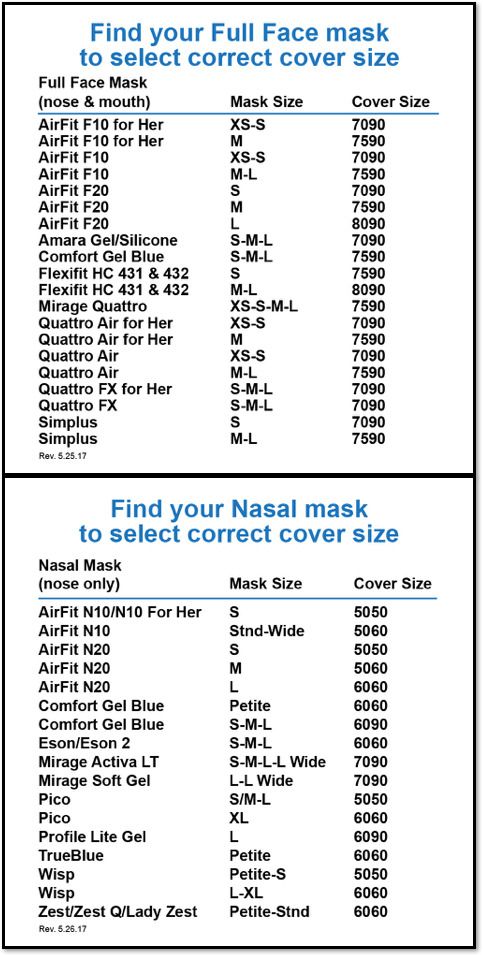 ---
Rating:
This mask cover is wonderful, it is so soft, finally I can sleep. I rate this product a 5
- Carla R
Submitted on February 21, 2018
---
Rating:
I am rating this a 5 because it works, when you wash it throw it in a pillowcase with other things and it comes out really nice. Just hang it to dry. Love it
- Ceceilia M
Submitted on March 28, 2017
---
Rating:
These are the best mask covers I ever used.
- Terry S./ MI
Submitted on February 20, 2017
---
Rating:
I just purchased these mask covers the other day and just received these so quickly. These are so nice and washable too.
- Judy H.
Submitted on February 14, 2017
---