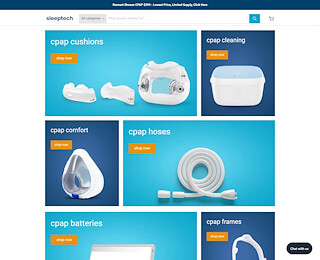 The Pros Of Using A CPAP Mask
A CPAP mask is often a godsend for those who are suffering from sleep apnea and while it can be difficult to find the right CPAP mask for your needs, you can enjoy a wide range of advantages by doing so. Let's take a closer look at the three different mask types currently available and the specific advantages that each of them has to offer you.
Nasal CPAP Mask
These masks are the proper choice for those who primarily breathe through their nose. The nasal cushions that these masks provide are great for cushioning the area, while still creating a great seal. Forehead support is also offered by these masks, which allows them to remain stable and supportive at all time.
The airflow that these masks offer to the wearer is also a major plus, as other masks cannot provide the same level of direct pressure. If you are in need of higher pressure settings, the nasal mask is a much better choice than the other two mask types on this list. The nasal mask also offers the most flexible fit and users have the ability to choose from a wide range of styles that are designed to cater to all facial structures.
Nasal Pillow CPAP Mask
These masks can be restrictive and by using the nasal pillow model, the wearer is given a far greater feeling of freedom. This allows them to sleep in a much more peaceful manner and make it through the night with minimal interruption. For those who wear glasses, the nasal pillow mask ensures that their line of vision remains clear at all times and lets them watch television or read before bed.
The nasal passages also receive direct airflow, which helps to reduce the amount of air leakage that takes place. Patients who have a noticeable amount of facial hair also benefit from the usage of nasal pillow masks, as standard masks do not often fit properly over the nose and mouth of bearded sleep apnea patients.
Full Face Masks
This is the option that many are forced to turn when they are experiencing discomfort or poor fit with the aforementioned options. These masks not only cover the mouth and face, but they also come with side straps that cover part of the face and ensure that the mask stays in place. The full face mask is the common choice for sleep apnea patients who breathe through their mouth and these masks go a long way towards eliminating occurrences of dry mouth that keep sleep apnea sufferers from enjoying a good night's rest.
If you sleep on your back, these masks serve to prevent all unnecessary leakage. Patients who are in need of higher CPAP levels than their counterparts will also typically choose the full face mask to suit their requirements. Those who suffer from claustrophobia also benefit from the usage of a full face mask, due to the fact that the masks only touch the outside of the face, as opposed to the bridge of the nose and their upper lip.
Cpap Mask