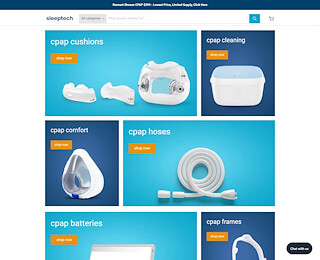 How To Choose The Best CPAP Masks
Locating the best CPAP masks for your purposes is not always easy, but when you are properly educated on the matter during the early stages of the process, these matters become far more simplified and you are able to steer clear of the usual pitfalls that befall those who search for CPAP masks without the proper guidance.
So what is the proper criteria when it comes to finding the CPAP masks that are able to work best for your needs? Let's take a closer look at the considerations that must be made when finding the right mask for your nightly use that will reduce all of your long term health concerns.
Comfort and Fit
This is easily the most important consideration that you need to make when deciding between CPAP masks. If the mask that you are considering does not fit you properly or is uncomfortable, this is not something that you should simply decide to ensure. While the search for the proper mask might become tiresome at certain points in time, it is in your best interests to stick with it and make the decision that works best for you.
The mask may not be comfortable because it does not fit your personal breathing needs and you could require something a bit more specific. If you find yourself completely unable to locate the best masks for your medical requirements, take a moment to speak to a licensed physician so that they can point you in the right direction. Take as much time as you need.
Sleeping Patterns
The manner in which you sleep is also going to play a role in your decision making and if you are an active sleeper who moves around a lot in bed, this is something to bear in mind during the selection stages. If the mask does not remain secure while you are sleeping, this will significantly diminish its amount of overall effectiveness.
Specific Facial Considerations
If you have facial hair, CPAP masks can be tougher to come by. Some masks may end up leaking due to the uneven surface area, so this is something that you are going to need to heavily consider. In addition to concerns related to facial hair, you will also have to let any technicians who assist you in your choice know more about any facial irritations that you typically experience so that they can help you select a mask that does not aggravate these issues.
Nightly Routine
Do you like to watch television while you lay in bed or you are more of a reader? Do you wear glasses in bed? If so, you need to consider your nightly routine when making a final decision. Otherwise, you could end up selecting a mask that impairs your field of vision and keeps you from being able to enjoy your nightly routine in the same manner that you have become accustomed to. Those who breathe through their mouth may also require different CPAP masks than their counterparts in order to achieve maximum effectiveness.
Cpap Masks