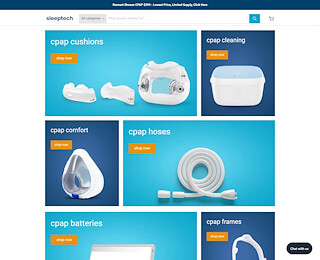 The Benefits Of CPAP Nasal Pillow Masks
Those who require CPAP masks will often choose CPAP nasal pillow masks because of their minimal design techniques and the unparalleled freedom that they have to offer. They are the smallest of all the masks choices that you will have to select from and provide the user with the ability to enjoy a far more peaceful sleep than some of the other models that they have to choose from.
Do you still wish to learn more about the benefits of CPAP nasal pillow masks? If so, we implore you to read on and find out how CPAP nasal pillow masks can change your life for the better and allow you to enjoy a more restful night of sleep.
Assisting Claustrophobic Patients
Patients who suffer from claustrophobia often struggle with the concept of wearing CPAP masks to sleep in and thanks to the minimal design of the nasal pillow mask, they can now reduce the level of fear and anxiety that they experience. Patients' comfort level in these scenarios is very important and for those who do not sleep well when they feel an excessive amount of material rubbing up against their face, these masks are considered to be an absolute godsend.
Conducive to TV Watching and Reading Before Bed
Those who like to zone out and watch television while they are drifting off to sleep each night benefit greatly from the addition of CPAP nasal pillow masks to their sleeping routine for a number of different reasons. If you like to read, these masks can also serve a similar purpose. Being able to enjoy your usual nighttime routine without having your vision impaired is very conducive to the overall sleep apnea rehabilitation process.
Beneficial To Glasses Wearers
Glasses wearers often struggle the most when it comes to finding the right CPAP masks to meet their needs and thanks to the nasal pillow mask's lack of material that covers the bridge of the user's nose, the mask fits far more comfortably on the face than some of the other selections that are available to you.
Reduced Air Leakage
One of the most common complaints when it comes to CPAP masks is the amount of air leakage that takes place inside of the nasal passages. Thanks to the nasal pillow mask and its ability to offer users direct air flow, air leakage is significantly reduced and the wearer of the mask is able to sleep far more comfortably than ever before.
Assisting Active Sleepers
Are you the type of person who constantly finds yourself tossing and turning in bed? If this describes you, the nasal pillow mask is your best, as it will typically remain in place no matter how many times you move back and forth throughout the night.
Facial Hair
CPAP mask users who have a sizable amount of facial hair often struggle to find the right mask for their needs, due to the amount of leakage that tends to take place. With nasal pillow masks, these leakages are significantly reduced, providing added comfort for users with facial hair.
Cpap Nasal Pillow Masks