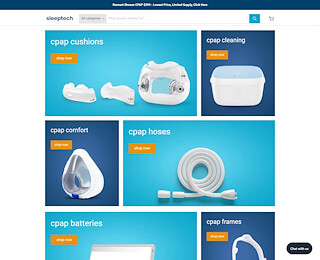 Tips To Assist You In Finding The Right Resmed Masks
Finding the right Resmed masks to assist you in your sleep apnea treatment can seem like a chore, but when you take the time to select the mask that best suits your personal features and your specific lifestyle, you can eliminate many of the issues that are associated with this process.
How Do I Find The Resmed Masks That Are Best For Me?
Much like the human face, Resmed masks come in a number of styles, shapes and sizes. There is no reason why a sleep apnea patient should not be able to find a mask that meets their specific needs. There are three different categories to select from. A nasal mask sits over the nose, nasal pillow masks perch the mask directly at the nostrils and a full face mask covers the entire nose and the rest of the face.
Which One Will Work For My Needs?
It might take a little bit of trial and error before you end up figuring out which mask is best for you, so don't get too discouraged during this part of the process. One of the primary factors is your method of breathing. If you are someone who can easily breathe through your nose, you should have no problem with wearing a nasal pillow mask or a nasal mask.
On the other hand, if you are someone who uses their mouth to breathe, a chin strap or a full face mask is usually your best choice. These are the best masks when it comes to ensuring that your mouth does not open during sleep.
How Do I Ensure The Right Fit?
You need a mask that offers a stable seal and minimal air leakage. At the same time, your comfort is also very important, so you must bear this fact in mind. If any air is able to seep out of your mask, you are not able to enjoy the full effects that this form of therapy provides. Avoiding overly tightening your mask to secure the seal and do not turn the air flow on until you have achieved a positioning that maintains the seal and is 100 percent comfortable.
The Importance of Mask Size
If you do not choose a mask of the proper size, the right fit is much harder to come by. You won't be able to find the seal you need and sleep in a comfortable manner until you select the right size. Luckily, most patients are able to wear a variety of different mask sizes, so you should certainly be able to find the one that suits you. Be sure to avoid choosing a mask that is overly tight, as it could leave marks on your face that are difficult to remove.
Resmed masks are a major component of your sleep apnea treatment plan and by taking the time to follow the aforementioned tips when it comes to finding the right one, you can avoid the all too common problems that are associated with an improper fit and unwanted air leakage.