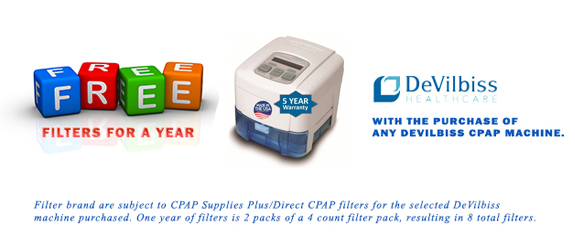 Manufacturer: DeVilbiss
Contents of Package: Auto Machine, Power Cord (8ft), Initial Filters, 6' CPAP tubing, Travel Bag, Instructions.
Description: At 26 dba, the DeVilbiss IntelliPAP Auto machine is one of the quietest machines on the market today. The SmartCode key allows data to be stored and downloaded easily for future viewing, and the delay pressure ramp allows you to reach your prescribed pressure gradually, preventing any discomfort while trying to fall asleep. The machine also features large, backlit LCD buttons and display so you can always have control, even if it's in the middle of the night. It is available without or with a built in heated humidifier. SmartFlex technology adjusts to your breathing, adjusting the pressure and speed of your therapy for superior comfort.
The heated humidifier has no additional cords or controls, making it ideal for travel, and helps to ease any dryness felt during therapy by offering continuous moisture. The heat in the humidifier helps pick up more moisture than ever for added comfort. Traveling ease is further enhanced thanks to the optional cigarette lighter adapter, allowing your machine to run using power from your car or truck when a traditional outlet isn't available.
PROPOSITION 65 WARNING: This product contains a chemical known to the State of California to cause cancer, birth defects or other reproductive harm. Please note: A Proposition 65 warning does not necessarily mean a product is in violation of any product-safety standards or requirements. The law requires anyone who sells products in the State of California to display this message.
---
Rating:
I really am glad I bought this product 5 years ago I really like it. Now I need a new one and I am going to buy the very same machine, I really like the fact that it has a 5 year warranty too. Good company to work with.
- Kenneth
Submitted on May 23, 2017
---
Rating:
I am giving this machine a 5, I like the weight of it and it is easy to travel with. It is heavy enough to stay on my bedside table. This is worth the money.
- joey M
Submitted on April 18, 2017
---
Rating:
This machine is awesome, It's easy to travel with and the warranty is nice. I'm going to buy another one for my summer home.
- Toby Reynolds, TN
Submitted on July 7, 2015
---
Rating:
I was looking for a quiet machine and when I called CPAP Supplies Plus/Direct they told me about the Devilbiss Intellipap and the warranty that goes with this unit and went ahead and placed my order. What a amazing machine. Quiet!!!!! I can also download my report with the Smart Code feature and see how I am doing. Terrific machine for the price. Thank you so much Sandy for your help. You will always have me as a customer with CPAP Supplies Plus/Direct.
- James M.
Submitted on May 8, 2015
---
Rating:
Perfect machine for the price and the warranty is what sold me.
5 year warranty you can't beat this. No other manufacture has a
warranty like this. The girls in customer service are the best to deal with. Great company to deal with.
- Susan VanBurke
Submitted on March 30, 2015
---
Rating:
What a great machine and quiet too. The warranty is why I purchased this machine. Great customer service and I received my machine so quick.
- Luke
Submitted on March 25, 2015
---
Show All 6 Reviews
---