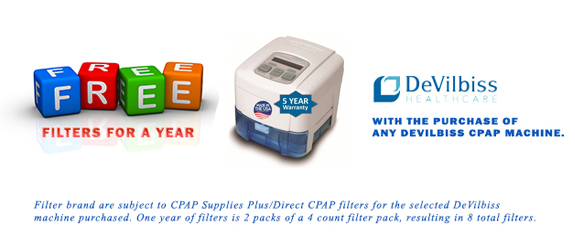 Manufacturer: DeVilbiss
Content of Package: CPAP machine, 8' power cord, Initial filters, Travel bag, 6' CPAP tubing, Instructions
Description: At 26 dba, the DeVilbiss IntelliPAP CPAP machine is one of the quietest machines on the market today. The SmartCode key allows data to be stored and downloaded easily for future viewing with your doctor, allowing optimization of CPAP therapy. Standard features like a delay pressure ramp allow you to reach your prescribed pressure gradually, preventing any discomfort while trying to fall asleep. The machine also features large, backlit LCD buttons and display so you can always have control, even when it's dark. It is available without or with a built in humidifier. The humidifier has no additional cords or controls, making it ideal for travel or small spaces, and helps to ease any dryness felt during therapy by offering continuous moisture.
PROPOSITION 65 WARNING: This product contains a chemical known to the State of California to cause cancer, birth defects or other reproductive harm. Please note: A Proposition 65 warning does not necessarily mean a product is in violation of any product-safety standards or requirements. The law requires anyone who sells products in the State of California to display this message.
---
Rating:
I have had this Devilbiss machine for about 2 years now and I really love it. It is small, lightweight, easy to travel with, quiet, and very easy to use. If anyone is on the fence about ordering it I say go for it.Thanks CPAP Plus for all of your help.
- Dorothy E.
Submitted on August 16, 2016
---
Rating:
Excellent machine. Simple to use, easily transportable which was my main reason for purchasing this machine! Also the 5 year warranty is the main reason for my purchase! Thanks CPAP Supplies Plus/Direct!
- Brian G.
Submitted on March 30, 2015
---
Rating:
Unlike most other machines that I've tried over the years, this one actually performs to what it's supposed to do. The 5 year warranty is pretty nice as well...
- Ron A. , Lousiana, MO.
Submitted on January 31, 2014
---